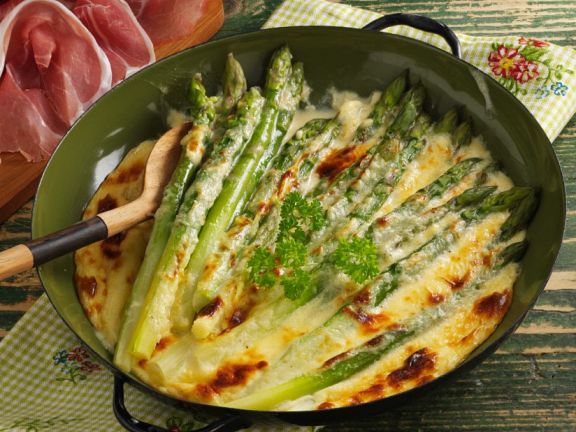 Voor 4 personen
Ingrediënten:
800 g groene asperge
Zout
200 g Mascarpone
2 eieren
Peper
1 stuk Parmezaanse kaas (ca. 50 g)
Bereidingswijze:
1. Was de asperges, schil het onderste derde deel en snijd de houtachtige uiteinden eraf. Kook de asperges in kokend gezouten water gedurende ongeveer 5 minuten. Afgieten, afspoelen en goed laten uitlekken.
2. Leg de asperges in een ovenvaste pan of ovenschaal. Meng de mascarpone met de eieren tot een gladde massa. Breng op smaak met peper en een beetje zout en verdeel over de asperges.
3. Rasp de Parmezaanse kaas fijn, strooi hem over de asperges en bak ze in een voorverwarmde oven op 200 °C (heteluchtoven 180 °C, gasmarkering 3) in ca. 20 minuten goudbruin.
Lekker met aardappelen of tagliatelle.
Eet smakelijk!
Leave a reply