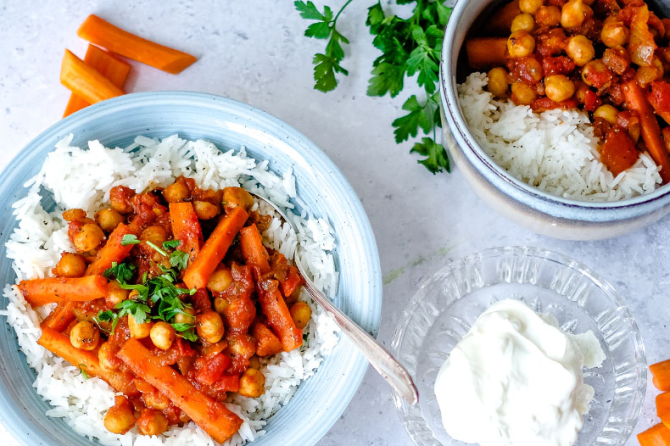 Voor 4 personenIngrediënten:
1 grote ui
3 – 4 wortels
olie om te bakken
een groot blik kikkererwten
2 theelepels kerriepoeder
400 g gehakte tomaten
400 ml kokosmelk
2 el tomatenpuree
Zout en peper
rijst
peterselie
Bereidingswijze:
1. Pel de ui en de wortelen en snijd ze in stukjes, stokjes of blokjes.
2. Verhit het olie in een diepe pan en fruit de ui en stukjes wortel tot ze gaar zijn.
3. Laat de kikkererwten uitlekken in een zeef en voeg ze toe aan de pan. Bak een paar minuten.
4. Voeg de gehakte tomaten, de kokosmelk en de tomatenpuree toe, breng het geheel aan de kook, laat het iets inkoken en haal het van het vuur.
5. Breng op smaak met zout en peper en kerrie naar smaak.
Serveer met basmatirijst en yoghurt of zure room.
Tip
Je kunt de yoghurt nog wat extra pit geven door er heel fijn gesneden ui aan toe te voegen. Gehakte peterselie doet het ook goed in de yoghurt en voeg dan een flinke portie zout en peper toe.
Leave a reply