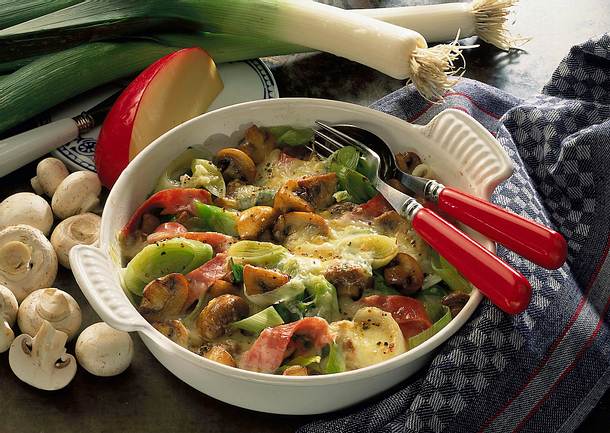 Ingrediënten voor 4 personen:
750 g prei  
500 g champignons  
20 g boter of margarine
zout  
witte peper  
200 ml groentebouillon (blokje)
125 g gesneden gekookte ham
200 g geraspte kaas  
peper uit de molen
Bereidingswijze:
De prei schoonmaken, wassen en in ringen snijden. Was en reinig de champignons en snijd ze in helften of kwarten, afhankelijk van de grootte. Verhit het vet in een pan en bak de champignons kort. Voeg de prei toe, bak kort mee en breng op smaak met zout en peper. Giet de bouillon erbij, breng aan de kook en laat ongeveer 5 minuten koken. Snijd de ham in reepjes. Vouw de ham door de groenten en verdeel over 4 ovenvaste schaaltjes. Bak 5-10 minuten in de voorverwarmde oven (elektrische oven: 225°C/gasstand 4). Serveer bestrooid met peper.
Leave a reply